Wall Street protesters vow to reoccupy on movement's anniversary
Wall Street protesters vow to reoccupy on movement's anniversary
: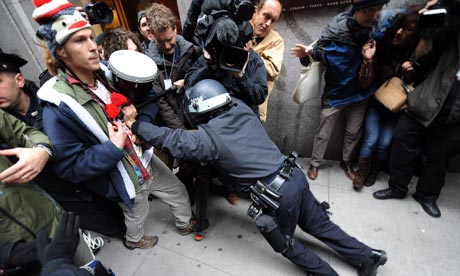 Activists at Occupy Wall Street have issued a call to thousands of protesters across the US to reoccupy outdoor public spaces to mark the movement's three-month anniversary.
The Occupy movement has stalled in recent weeks after a wave of evictions swept away a raft of encampments, including the largest in Los Angeles, Philadelphia and New York. On Wednesday, it suffered a fresh blow as police in riot gear cleared Occupy San Francisco camp on the orders of the mayor, who had been sympathetic to protesters, while Occupy Boston lost legal protection against eviction.
Organisers said they hoped the call to reoccupy on the 17 December would galvanise and grow the movement.
Amin Husain, a press spokesman for OWS, said: "We know that occupation empowers people and eliminates fear. It permits individuals to assert themselves as political beings even although the system doesn't represent them." […]
In a piece published this week in the first issue of Tidal, a magazine published by the Occupy movement, Judith Butler, academic and feminist theorist at the University of California, Berkeley, spoke of its importance.
Butler said: "When bodies gather together as they do to express their indignation and to enact their plural existence in public space, they are also making broader demands. They are demanding to be recognised and to be valued; they are exercising a right to appear and to exercise freedom; they are calling for a liveable life.
"These values are presupposed by particular demands, but they also demand a more fundamental restructuring of our socio-economic and political order."