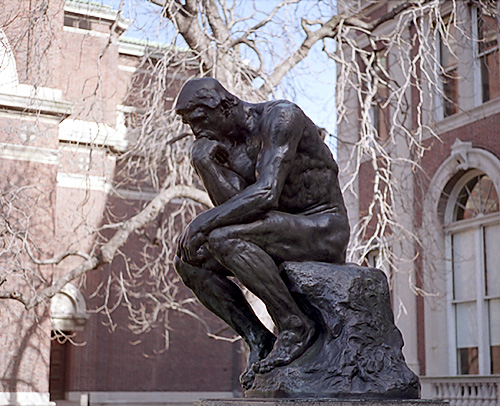 After listening to the Terence McKenna talk embedded below I was reminded of something I wrote about 6 years ago, long before I knew of McKenna.  It verified my primary thesis about life which is: We are born with a truth inside of us, and our lives are about its articulation.
The following is an excerpt from the introduction to my book The Science of Living and it is an attempt to illuminate the role of isolation in the life of a thinker.
The Isolation of the Thinker (From the Introduction to The Science of Living 2004)
I would not work so hard to satisfy the reason unless I felt that it could work against us as a unit, author and reader.  I hope that this work is gentle, as it does challenge the reader to distinguish between the use of his/her reason and the corruption of that faculty into rationalization.  The aggressive nature of this assertion compels me to assure you that it is not made out of contempt.
I have purposely added this final section of the introduction in order to address the tension that exists, that collective mistrust, between thoughtful individuals.  This tension which gives rise to cynicism and bitterness can be destructive to the development of intimacy between authors and readers, friends, family members, co-workers,etc.  It is innate to all relationships in times of corruption but since as author and reader we can assume that both of us are thoughtful members of society I wish to illustrate a more specific form of that tension.
We will be speaking, within the work, of forces; societal, spiritual, psychological forces, etc. that are at work in our lives.  All social phenomena arise from a relationship between two or more of these forces.  The phenomenon I wish to address in this section, as it concerns our relationship as author and reader, is something I call the alienation of the thinker.  The thinker in our society, having experienced this alienation in various ways, often encounters new experiences, new works, and new people with cynical mistrust.  This attitude is something I wish to deconstruct here, from the beginning in order to move into the work with, at least, a modicum of hopeful enthusiasm.
The structure of this alienation can be understood by delineating the types of forces that make up different phenomena into two groups.  If our hope for survival is dependent upon a set of principal forces then the threat to that hope, the dark force of destruction, must also be comprised of its own set of principles that work in opposition to growth.  If there are principles that work to uplift the spirit of man and these can be understood as forces, then they must act in resistance to some force of opposition.  Effort is the unfortunate evidence of this duality.  In order to get to the cause of our alienation it is not necessary to imply that what opposes our unity is fully conscious.  I will refrain from proposing that what works against progress can be found in the evil heart of an identifiable enemy.  Rather, I argue that there are structural weaknesses in the architecture of society.  Our foundation is cracked and the walls have become brittle.  The shelter of law no longer protects its inhabitants.  This is not as much a matter of evil as it is of age.  The preliminary mistrust that exists between us, as reader and author, is an unfortunate side-affect of living in a dying culture.  Sadder still is that there are those that would rather live in a house full of leaks with the stench of rot than exert the effort required to build a new home, a new shelter for those forces that protect our unity.
As we look further at the structure, at both the explicit and internal government of peoples, there are ways in which thinking men and women experience isolation; that is, the feeling and experience of being alone.  This aloneness, the spiritually melancholic detachment from one's community, often matures into a rigid disregard for one's fellows.  Sadness and anger are two fruits of the same tree.  They stem from a lack of belonging.  It is a physiological reaction to a deficiency of one our primary needs as human beings.  Thoughtful people, sensitive people, curious people, intuitive people, people who ask big questions, people who wish to understand the larger picture; these people are often the first, in a corrupt society to begin to feel the affects of isolation for these people are particularly dependent upon principles for their nourishment and when the principles that govern society become fuzzy or contradictory they begin to seek out similarly engaged people in order to find clarity.
As this search for unity, personal unification and community integration, becomes more and more difficult the thinking man or woman experiences something worse than alienation – hopelessness.  At this point the alienation of the thinker reaches its acute stage.  Many who have experienced this have found ways to cope with it.  These enlightened individuals find contentment in spite of their loneliness, due to a profound piety, taking pleasure in pursuing their principles of generosity and respect but they are impaired by the handicap of isolation, lacking a true thriving community of loving and thoughtful individuals.  These men and women are like people with wooden legs, able to do the chores of daily life but unable to lead any charge.  Hopelessness is lurking in the lives of such people.  This work argues that there is further healing, further levels of community that the thinker can experience and, most importantly, that he/she is entitled to that experience.
Yes, this work has a challenging tone.  That is because I believe that, although society has its role in our mutual alienation, our greatest struggle is to be found in the achievement of unity between thinking men and women, rational and justice-loving people.  To that population of wooden-legged thinkers, frustrated by impotence and neglect, I wish to provide some tools for the uncovering of those universal principles that will safeguard us in this difficult time.  Once we have a network of mutual respect and support nothing can stand in our way.  However, to accomplish such a thing requires more than an excited passion.  One must embark on a quest to find the golden thread that unites us.  What is there within our principles that is common, that is pure, that is to be the bedrock of the new age?  That is our challenge and our hope.
Many men and women who consider themselves thoughtful, educated or enlightened are rigidly adhering to a personal science.  Their experiments are their own and they do not subject the results to the testing ground of community.  In this way they lack any accuracy and their growth is substantially stunted.  Their wisdom is like a ship trapped in a bottle.  In order for us all to get onto the open sea, with the ability to exchange ideas, we must break the bottles that mutate our vision of reality.
And so I hope this work has a breaking quality, shattering the delusions of individuality and the romance of the lone genius.  I offer some notions of what is common between us and what can be built upon.  Bring with you your cynicism and disbelief and arrogance, if you must.  Be assured that only you see the world the way it is and position that against some of these new principles, if you must.  Our relationship can be a struggle or a love affair.  Either way, our survival depends upon the development of mutuality.  The propositions you are about to encounter are made on a universal scale.  They attempt to answer that question, "What shall we do?"
You might as well bring with you an attitude of curiosity and enthusiasm.  For what is ahead is not simply a description of the problem.  It is a suggested solution to the troubled world.  Open your heart to the idea that we, author and reader, might discover the mechanism that will help us evolve into the next great age of humanity.  That way, even if I fail, you might be more inclined to have the kind of insight that might save us.  For isolation is anathema to insight.  Such is the insidiousness of that dark force working to destroy us that it puts thinking men and women in such isolation that they lose not only their rights to fellowship but also the capacities that made them a threat in the first place.
In summary, all thoughtful men and women seek unity, intimacy and fellowship but what they lack is a systematic approach to the achievement of these goals.  So it was in the Middle Ages when the scientific revolution provided the much-needed progressive outlook.  So it was in the Late Roman Empire when Christianity gave quarter to man's spiritual longings.  So it was during the early days of civilization when democracy provided protection for the law.  Every movement toward progress is one where the intuitive nature, responsible for our survival as a species, is given its proper place in the framework of society.  And so this science of living is a systemized approach to revolution, not a violent overtaking of power; rather, the overwhelming moral evolutionary process that is to be given credit for our growth as human beings.  And with that we come to the end of the introduction, where I will set you to the work ahead.  I hope I have provided an adequate preparation for the text.